Future students
Undergraduate and Postgraduate Coursework Opportunities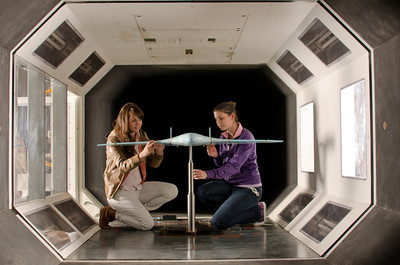 Aeronautical Engineering involves the design, analysis, development, construction, maintenance and operation of flight vehicles. An aeronautical engineer needs a sound understanding of the mathematics, physics, computer science, materials science and design philosophy. Aeronautical engineers apply their skills in a variety of areas in the global aerospace industry, defence industries and many related fields of science and technology .
Undergraduate students in this program can elect to do a major in Space Engineering provided they meet entry requirements for this major.
Find out more about our Bachelor of Engineering Honours (Aeronautical) undergraduate and Masters of Professional Engineering (Aerospace) coursework programs.
Biomedical Engineering is a multidisciplinary branch of engineering that combines knowledge of mechanical, mechatronic, electronic, chemical and materials engineering with the life sciences of medicine and biology. It is one of the fastest growing branches of engineering. Biomedical engineers design and manufacture implantable and external medical devices including orthopaedic, cardiovascular and other electronic and surgical equipment.
Undergraduate students in this program can major in Chemical, Electrical, Mechanical or Mechatronic Engineering or Information Technology.
Find out more about our Bachelor of Engineering Honours (Biomedical) and Master of Engineering (Biomedical) or Master of Professional Engineering (Biomedical) coursework programs.
Mechanical Engineering represents a broad branch of professional engineering, with its practitioners applying basic sciences to the development of technologies that enhance our quality of life. Mechanical engineers contribute to almost every type of engineering activity - from the application of nanotechnology to the design of systems crucial to sustainable power generation, air conditioning, transport, steel production and mining.
Undergraduate students in this program can major in Environmental, Materials or Space Engineering. The Space Engineering major is subject to entry requirements.
Find out more about our Bachelor of Engineering Honours (Mechanical) and Master of Engineering (Mechanical) or Master of Professional Engineering (Mechanical) coursework programs.
Mechatronic Engineering is the study of computer-controlled systems that form the basis of the 'intelligent' products that are ubiquitous in today's society. Drawing on aspects of disciplines such as mechanical, electrical and systems engineering, as well as computer science, it provides the foundation for cutting-edge technologies in fields including robotics, manufacturing, aerospace and bioengineering.
Undergraduate students in this program can major in Space Engineering provided they meet entry requirements for this major.
Find out more about our Bachelor of Engineering Honours (Mechatronic) and Master of Engineering (Automation and Manufacturing) coursework programs.
Space Engineering is an exciting new 21st Century discipline underlying the exploration and conquest of nature's most unforgiving environment. Combining key areas including orbital mechanics, space vehicles, ground station infrastructure, space avionics and space robotics, the space engineering major at the University of Sydney is the only one of its kind offered in Australia. Students meeting the high entry requirements can choose this major along with their specialisation in Aeronautical, Mechanical or Mechatronic Engineering.
Research Opportunities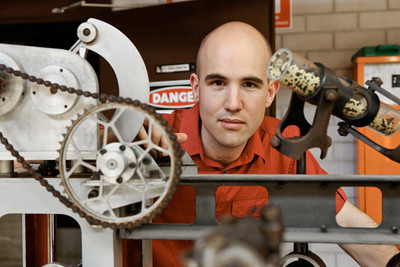 Sydney is the only Australian university in the top 50 in both the Times Higher Education and QS World University Rankings, and was the second highest recipient of competitive funding in Australia in 2013. We have a rich heritage in research leadership within the School of AMME (visit the History of AMME page), and as a result we are an important contributor to the University's overall research impact. To give a few examples, AMME accounts for 31% of the total Faculty of Engineering and IT research output, 51% of the total Faculty of Engineering and IT research funding and nearly 5% of the research funding gained by the University as a whole.
As an objective assessment of our research excellence, the Australian Research Council recently awarded AMME a rating of '5' in Aeronautical Engineering, '5' in Materials Engineering and '4' in Mechanical Engineering all out of a maximum of 5. A score of '4' or '5' means that the independent assessors ranked our research 'above' or 'well above' world standard research. World leading research centers and groups make the School of AMME a fantastic place to study for your postgraduate research degree, MPhil or PhD.
Finding a Research Project
We recommend that first of all you look at our Research page. Here you will be able to read about the exciting research being undertaken within the School, get to know the academic staff involved in each field and browse our annual research reports.
Individual PhD positions are advertised on Research Supervisor Connect, where you can browse our current opportunities. Remember that not all projects are listed on Research Supervisor Connect – if you do not see a project in the field of research you are interested in we recommend you contact directly the member of staff in that area to open discussions.
A complete list of our staff with links to their personal websites can be found here: Our People. Once you have found a project you are interested in, the next step is to simply contact your prospective supervisor with a copy of your CV. We encourage a very close working relationship with all of our PhD students, so all academic staff are very happy for you to contact them personally. From that initial contact you will be able to elaborate further on your particular research interests, or ask for more details on an advertised position.
Funding
At the University of Sydney there are several funding streams for potential postgraduate research students. There is a complete listing including a description of each and how to apply on the Scholarships Office website. Here we will give you just a brief introduction to the main funding schemes you may be able to apply for.
For Australian candidates (including Permanent Residents) with an Honours I or equivalent undergraduate degree you can apply for an Australian Postgraduate Award (APA). At 2014 rates, this scholarship pays for your tuition fees and a tax free stipend of around $25,392. Applications are competitively awarded, however we would strongly encourage anyone eligible to apply (Honours I and above) to do so. The APAs are available for work on any research project agreed with an AMME staff member, and approximately 30 are awarded each year to students applying to study within AMME.
For international students, the University can award an International Postgraduate Research Scholarship (IPRS). This is essentially equivalent to the APA, and pays for your tuition fees and a tax free stipend of about $25,392 (2014 rates). These are extremely competitive and at present only 30 are awarded for the whole University. A typical applicant for this scholarship will have an honours 1 equivalent score of around 85%, along with either a research publication or several years relevant work experience. We certainly encourage applicants with strong backgrounds to pursue this option.
In conjunction with the above two streams, there are additional awards which can offer top-ups to the base stipend. This includes schemes such as the Vice-Chancellors Award which gives exceptional students an additional $10k/year on top of the APA. Some research supervisors may also be able to offer a top-up stipend of $5k or more per year, particularly for industry-funded projects. Furthermore, it is quite common for PhD students to tutor during the semester which complements their other funding sources.
It is important to note that we also consider applications from students who are not eligible for the funding opportunities listed above, but who demonstrate clear potential to deliver excellent research. If you do not fit into any of the schemes listed in the Scholarship Office website, we encourage you to discuss your particular background and qualifications with your potential research supervisor to determine if there are other scholarship sources you may be eligible for.