THE 5TH TISSUE ENGINEERING SYMPOSIUM
18 - 20 August 2014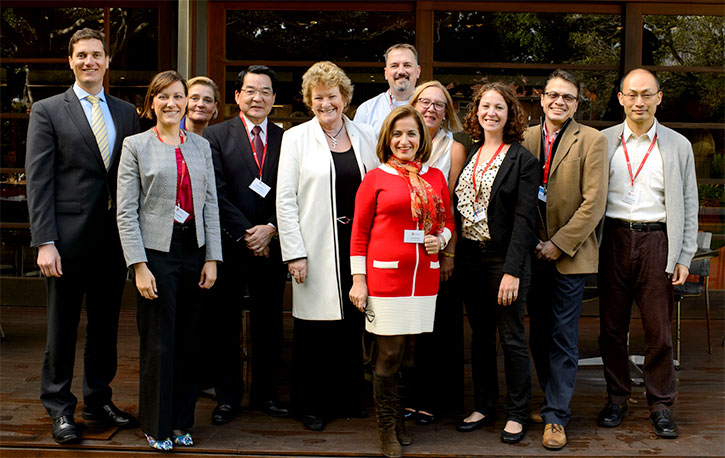 Pictured from left to right: Edward Palmisano, Sarah Heilshorn, Gail Naughton, Teruo Okano, Hon. Jillian Skinner MP, Hala Zreiqat, Jason Burdick, Pamela Yelick, Kara Spiller, Christopher Little, Noriyuki Tsumaki


Overview
World class event in tissue engineering was held on 18th - 20th August 2014 at the University of Sydney, focussing on Tissue Engineering for organ regeneration, convened by Professor Hala Zreiqat (The University of Sydney).
Download the event flyer.
Download the symposium book.
International and local key speakers included:
Download the biographies for our key speakers.
Event Details
Date: Monday 18 August – Wednesday 20 August, 2014
Venue: The Darlington Centre within the University of Sydney.
Audience: Industry, Government, Academia and especially early career researchers.
Registration: closed
Abstracts for the 2014 ADATE Symposium has closed. For more details click here.
This event was proudly sponsored by:
The University of Sydney

The School of Aerospace, Mechanical and Mechatronic Engineering
The Faculty of Engineering and Information Technologies
The Faculty of Science
The Faculty of Pharmacy
The Faculty of Medicine

Bosch Institute
Harvard Club of Australia Foundation
Advanced Surgical Design & Manufacture Limited
Scientifix Life
Organizing Comittee:
If you would like to notify the Network about an upcoming event or find out more about scheduled events, please email Professor Hala Zreiqat.

Please subscribe to our mailing list to receive upcoming event notifications.